Helestra LED Deckenleuchte Liv 15/20cm
Helestra LED Deckenleuchte Liv 15/20cm
Helestra LED Deckenleuchte Liv 15/20cm is a delicate and the pioneer of the future lighting.With the transparent shape,the lamps is like a spherical white well.It is made of high-quality metal and acrylic materials,and the finish of it is Matte white.Designer uses the simplest element to create the extraordinary lamp shape.With the simple spherical shape, this overall shape is regular and easy-matching. Helestra LED Deckenleuchte Liv 15/20cm has two specifications,which can be hanged individually or combined.It is an ideal choice for dinning room, study and bedroom.When the it is hung above the ceiling, it emits a warm and comfortable light, which is another unique sight. As a functional lamp, it will add luster to your dining table and will definitely leave a deep impression on your guests and make a good experience for you.
Please note: Your payment does not include customs duties, local taxes or any other import costs.
If you have any questions about our products, please contact us and we will get back to you within 24 hours.
Helestra LED Deckenleuchte Liv 15/20cm Size
Dia15cm×H9.5cm/Dia5,9×H3,7"
Dia20cm×H11cm/ Dia7,9×H4,3"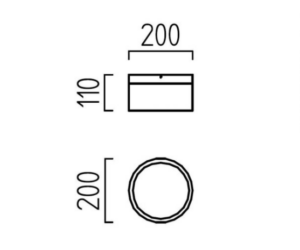 Helestra LED Deckenleuchte Liv 15/20cm Details
Material: Acrylic/metal
Light source: LED-chip
Power:15cm-Max 10W, 20cm-Max 14,4W
Lumen: 15cm-940 lm, 20cm-1160 lm
Color temperature: warm white(2900/3000K)
Weight: 2kg / 4.4lbs
Finishes: Matte white
Process: Baking paint
Control method: push button switch (not dimmable)
 
Data sheet
size
Dia15cm×H9 5cm
Dia20cm×H11cm
color temperature
warm white(2900/3000K)
Reviews
No customer reviews for the moment.
You're reviewing "Helestra LED Deckenleuchte Liv 15/20cm"